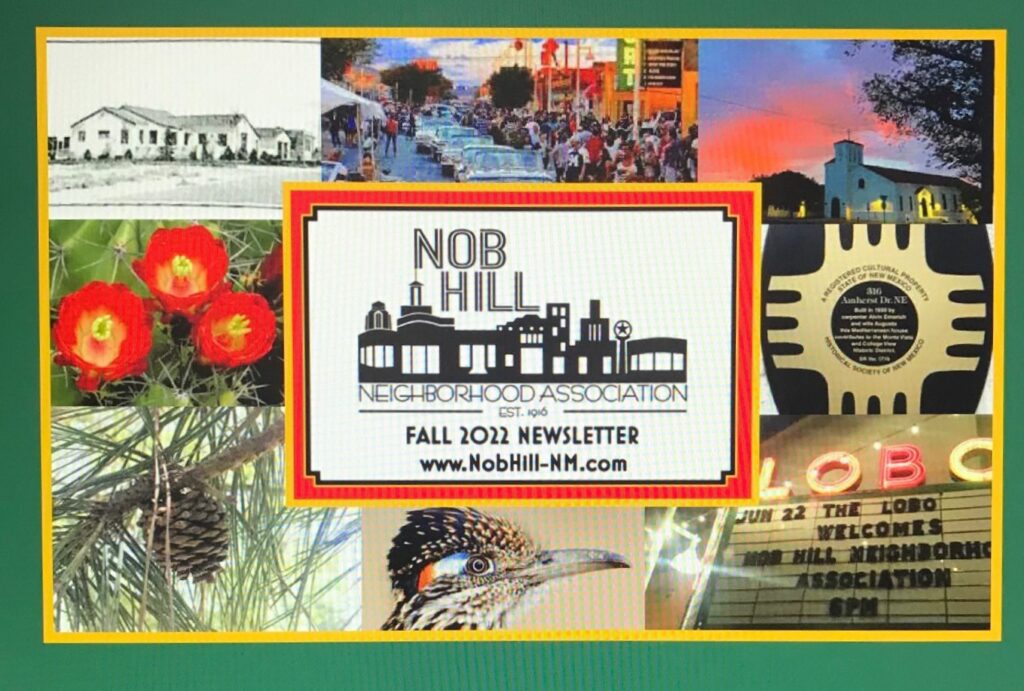 We print 3,600 issues of every newsletter and deliver to every house and business in Nob Hill. To get yours email theboard@nobhill-nm.com
Advertising in the Spring'23 Newsletter is easy.
If your business or residence is within the boundaries of the association (Girard Blvd, Lomas Blvd, Washington St. and Garfield St.) you qualify for LOCAL rates and will receive priority acceptance if space is limited.
If you reserve and pay for 2 issues we are pleased to offer a 10% discount on the pair. For the fall 2023 issue, instead of our usual full-color format, we are considering a stylish two-color format and slightly different ad sizes. This change would mean some advertisers would need to modify or redesign their ads.
AD SIZE                      LOCAL RATE PER ISSUE      NON-LOCAL RATE PER ISSUE
Business Card                    $63.00                                             $72.00
¼ Page                                $125.00                                            $144.00
1/3 Page                             $190.00                                             $215.00
½ Page                                $250.00                                            $288.00
Full Page                             $500.00                                            $575.00
We can only accept ads or photos in .JPG format.
To reserve please email your name, phone, email, ad size, number of issues, payment amount and method to your advertising contact or to Lucille at ltadvisor@yahoo.com or call her at 250-3860.
The deadline to receive ad copy and payment for the spring 2023 edition is February 20, 2023.
Failure to publish copy as ordered or typo-graphical errors by Nob Hill Neighborhood Association (NHNA) shall entitle advertiser to credit for the value of the ad space that has been rendered useless; which credit shall be the sole legal remedy to advertisers.
The right is reserved to reject or edit any advertising copy submitted deemed objectionable or contrary to public policy, deemed by the publisher to negatively impact the reputation of NHNA or its publications, or contrary to its policy as now or hereafter established, for any cause.
The terms and conditions shown on this contract shall govern the relationship between NHNA and the Advertiser. Unless expressly agreed to in writing by NHNA, no other terms or conditions in contracts, orders, copy, instruction or otherwise will be binding on NHNA.
Payment Options
You can mail a check to: Nob Hill Neighborhood Association, PO Box 4875, ABQ, NM 87196-4875.