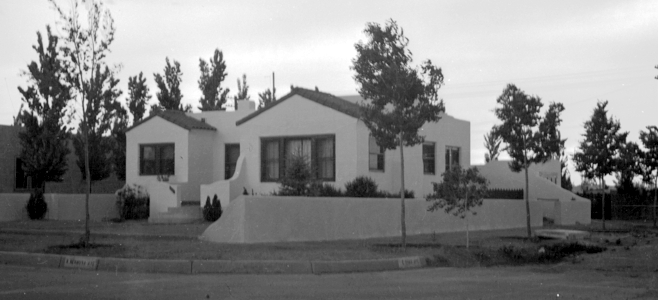 CABQ Preservation Planner Leslie Naji has written a handbook for owners of historic homes who want to renovate sensitively to retain historic character and enhance property value. Find advice on foundations, stucco, roofs, porches, doors, and windows as well as principles to help you preserve historic streetscapes.
The earliest part of Nob Hill dates back to 1916 and some neighborhoods are listed in the National Register of Historic Places. The National Register is the official register of places that have been determined by the Secretary of the Interior to be worthy of preservation.
Nob Hill relies on property owners to preserve its historic character. Construction needs a building permit from CABQ Building Safety Department, 924-3857.
Find the new handbook at http://documents.cabq.gov/planning/UDD/UDD-SilverHillHOZGuidelines2017.pdf
Contact Leslie at 924-3927 with questions.
(photo: 445 N. Hermosa Dr. ca 1935)