In 1900 Albuquerque existed only in the valley of the Rio Grande with its plentiful water and farmland (Photo 1935). The east mesa was sparse grass and brush with a few homesteads and tuberculosis camps. Settlement on the east mesa started in 1898 when the territorial legislature founded the University of New Mexico.
In 1903 Col. D.K.B. Sellers arrived in town via the Klondike gold rush. Seeing opportunity he platted the University Heights south of the university in 1906. Naming the streets after prestigious universities he sold lots from $25 to $275. He became mayor three months after New Mexico's statehood and platted the second portion of University Heights in what we now call Nob Hill in 1916. Noting heavy wood and coal smoke in the valley he urged prospects to move out of the low zone up to the ozone.
In 1916 Sellers platted the eastern half of University Heights, constructing a water tank near the corner of what would become Carlisle Blvd and Coal Ave to serve the new addition. Eventually, the private water system was replaced by a City system and a house was constructed around the water tank which was turned into its living room. The house still stands at 319 Carlisle SE. Museum of Albuquerque PA1980.061.139, 1/1938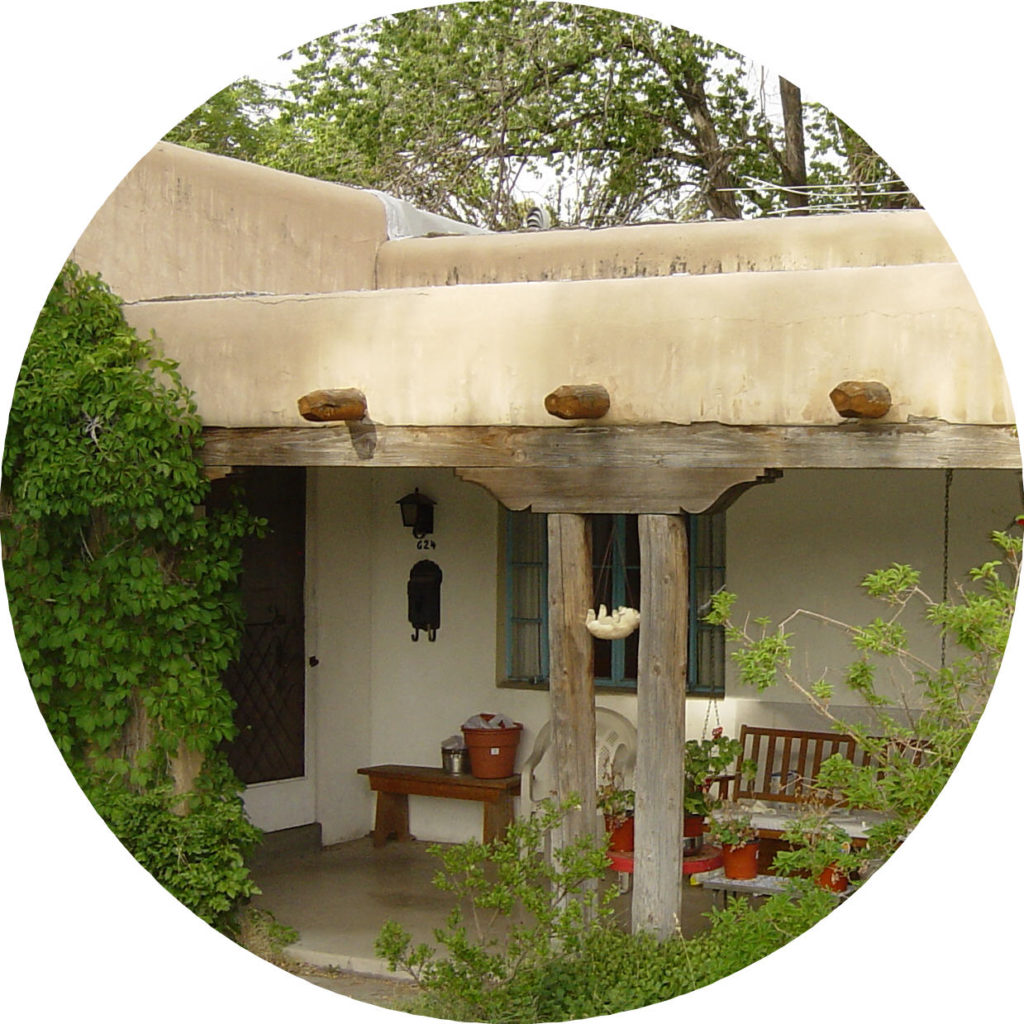 More subdivisions followed and builders built 80% of Nob Hill before WWII. Newcomers loved the Wild West and insisted that their houses reflect its style. Builders complied, enthusiastically reviving historical themes in their houses. Today most Nob Hill houses and buildings retain their historic character making it a living model of the ideal automobile-oriented suburb of the early 20th century and a vital place to live.
By 1917 only 2% of America's road were paved. The American Highway System was created by law in 1926. The law didn't build roads. It identified routes motorists could follow to travel cross country. The most famous was Route 66 connecting Chicago to Santa Monica, California. It originally headed north near Santa Rosa, NM and wound its way to Los Lunas where it finally crossed the Rio Grande. In 1937 a group in Albuquerque sold lawmakers on a more direct route that shortened the trip through the state from 506 miles to 399 miles. It came through the heart of Nob Hill.
Motorists needed fuel and food. Between 1930 and 1939 the number of buildings on Central Avenue between Girard and Morningside Dr. grew from six to forty four. Businessmen commissioned vibrant neon signs. Architects employed the popular international architectural style, seasoning it with exuberant regional styles.
Granada Heights was platted in 1925 by Mrs. KB Patterson, who eventually resided in the picturesque SW Vernacular house at 300 Carlisle Blvd SE.
Monte Vista Addition was platted by William Leverett Sr. in 1926. This addition lies on sloping ground which was prone to flooding from Campus wash, roughly aligned with what is now called Campus Blvd. Because of the unusual site Leverett hired S.R. DeBoer, a Denver planner. He conceived a plan which abandoned the traditional grid pattern, substituting a series of curving streets which would deliver monsoonal flows over streets to Campus Blvd. This maximized the land available for development while minimizing the threat of flooding.

Eager to offer amenities that would induce newcomers to consider this easternmost of suburbs, Leverett also dedicated a portion of the land for use as a school. Monte Vista Elementary School, constructed in 1930, was listed on the National Register of Historic Places in 1981. Also in 1926, Charles McDuffie platted College View Addition. Mesa Grande was platted in 1931.
Monte Vista Elementary as it appeared in 1946. The Albuquerque Museum Photo Archives