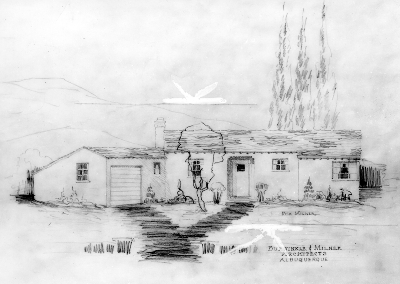 Demand for homes was brisk and most of the home sites in all four of these additions were developed in the quarter century before WWII. Housing was typically constructed by small contractors who purchased lots and built houses on speculation. Popular styles included the regionally-inspired Pueblo Revival and Territorial Revival. Also popular at the time was the Mediterranean Revival, popularized by the Panama-California Exhibition of 1915. Architect's drawing of a home for Dick Milner, 508 S. Solano Dr, Museum of Albuquerque, PA1980.187.265, October 1938.
Other Styles And Details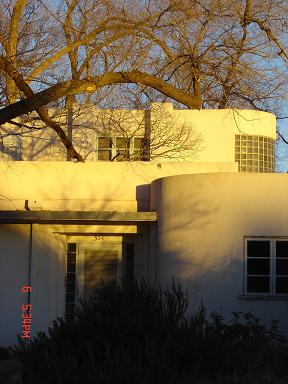 There are examples of Medieval Mode homes and, toward the beginning of WWII, good examples of the Streamline Moderne and early Ranch style homes. This concentration of houses employing these regionally-inspired styles imbues the district with its distinct character. Stylistic ornamentation associated with the vast majority of houses consists of a range of details derived from these styles. A growing number of houses increasingly reflected the use of regionally inspired building styles set against an eastern backdrop of the Sandia mountains. This combination contributed to a sense of place in the SW that proved attractive to many newcomers to Albuquerque as well as many local residents. Development halted during WWII as materials were diverted to the war effort. When the war ended in 1945 infill commenced and a new addition, Broadmoor, was platted in that year. Residential development continued into the 50's and was substantially complete by the mid-50s. Since then there have been only a few homes built. They reflect styles current at the time of their construction such as the Mid-Century style. There also exist several post war homes in highly unique international or one-of-a-kind style.